Birds are part of a healthy backyard habitat. Many eat bugs and act as inexpensive pest control. Others eat seeds and will help with deadheading your perennials if you let them go to seed! To keep birds visiting your yard, include a bird feeder and a bird bath. Make sure you place both within view of your favorite window—you won't want to miss the action!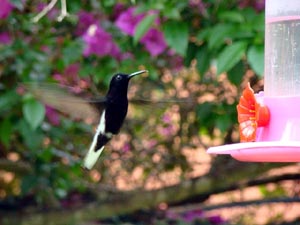 We have many options for feeders, houses and seed. The National Bird-Feeding Society  says that you'll attract more species if you have different types of feeders and seed in your yard. Start with a tubular feeder filled with black oil sunflower seeds and then gradually add other feeders. Don't forget to keep the binoculars handy!
At Wilmore, we really love birds so you'll find a whole "room" filled with supplies to keep them happy. We even have bulk seed so you can buy just the right amount. Don't forget the hummingbirds! They love to visit the nector feeders!
Basic Elements of a Bird-Friendly Backyard
Shrubs and trees for nest building, and for protection from sun, rain and snow
Fruiting shrubs and trees for food
Flowers that produce seed for food (you don't always need to deadhead!)
A source of water: fountain, bird bath or pond
Feeders filled with seed and also suet in the winter