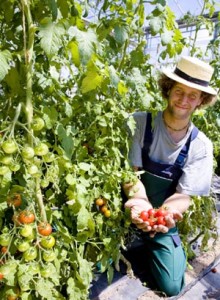 Grow your own organic vegetables and fruit! These days folks are growing herbs and vegetables everywhere: in the front yard, among the annuals and perennials, in containers, in the sun room, even in the basement under lights. You can't eat more local than your own home and yard. Add some fruit trees and berries and you'll be setting the table with a colorful cornucopia of healthy eats all season long!
Herbs and Vegetables
We'll help you get your herb and vegetable garden started with seeds and starter plants. Seeds are available year round and our seedlings start arriving in April. Can't wait to get your tomatoes planted? We have Wall-O-Waters® and other ways to protect your sensitive plants.
We have heirloom, certified organic and hybrid vegetable and herb varieties. Heirloom plants come from varieties grown before hybridizing became routine for seed companies. They are open-pollinated, which means that saved seed will produce the same characteristics as the parent plant. Hybrids (plants that contain genetic material from two different varieties) are grown to improve a specific characteristic, such as color, disease-resistance or yield. Hybrids are not genetically modified. They are created using plant breeding techniques.  Certified organic plants are grown in compliance with the USDA's National Organic Program, which means the plants were grown without synthetic fertilizers, pesticides and genetic engineering.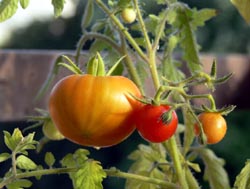 Not sure what the differences are between determinate and indeterminate tomatoes? Consult our Tomato Fact Sheet.
Did you know that growing certain herbs with your vegetables can confuse pests so they won't bother your tomatoes and other vegetables. Ask us about companion planting!
Berries and Vines
What's your favorite berry? Strawberries, raspberries, blackberries, grapes and gooseberries are all easy to grow in Colorado. Blueberries are best grown in a container with an acidic soil. (We have the recommended blueberry planting recipe at Wilmore. Just ask us!) Not sure how to trellis your cane berries and grapes? We have solutions. Come in and we'll show you the options.
Fruit Trees
Peaches, pears, plums, apricots, apples and cherries are all available as semi-dwarf trees (and some as dwarf trees) at Wilmore. All require regular watering and fertilizing, and proper pruning, to achieve a bountiful crop. Pollination is also very important. Some varieties require a second tree planted nearby for cross-pollination. If you only have room for one tree, we'll guide you toward your best options.
Download our Planting Instructions.
For more specific information, see these Blog Posts.